Customized products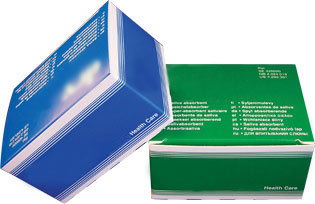 More and more customers request small scale and highly specialized Airlaid production. At M&J Airlaid Products A/S our know-how and the M&J plant features match this type of production perfectly.
Production speeds from a few meters per minute
Small scale production capability
Flexibility
Multiple production methods
Extensive experience in various production set-ups/methods
Due to the unique M&J/Krøyer forming technology and our extensive knowledge gained through many years of experience in the field, we can produce even small quantities without high start up and waste costs. This manufactoring flexibility makes us an ideal partner in the production of niche products.
Examples of our niche products:
Dental hygiene products
Absorbent products for technical applications
Meat pads
Washing gloves with plastic backing